Being a stay at home parent is hard enough as it is, without having to worry about pulling in an extra income. But unfortunately, most families don't have the ability to only have one working adult in the home. In fact, many two-parent households have both parents working, sometimes multiple jobs.
Luckily, there are ways for stay at home moms to earn some extra money on the side, with the potential to make a substantial, consistent income, without having to get the second (or even third) job!
Affiliate Marketing
(Disclosure Alert: This blog includes some affiliate marketing links! Yes, I utilize affiliate programs in my marketing strategy. This means that while I will never recommend products, services, or programs that I don't use and love, you clicking on these links will give me a little bit of spare change. Don't worry, it doesn't mean you'll pay more for any of the services, but it does mean that I'm able to keep the site up and running!)
Affiliate Marketing is a great way to earn some extra cash through blogging, social media and email marketing. If you've got a knack for persuading others, sharing great content, and writing about what you love, you'll do well here. There are thousands of affiliate marketing programs, which means there are options for almost any niche. The key to affiliate marketing is finding your specific niche, looking for programs and products that appeal to you and your audience, and then joining and sharing them. That's it!
It can't be that easy…can it?
Honestly? Yes, it can. While marketing in any form requires patience, research, and a good amount of strategy; affiliate marketing is ready-made for people who may not have a lot of time on their hands to sit down and write out an entire, full-blown marketing plan.
Now, I won't sit here and tell you that you're going to start making $10,000 or even $5,000 a month right away. Some people don't make that much, and some make a lot more. But its completely possible to make a good amount of profit using affiliate marketing programs, whether that's enough for a few extra coffees a week, or enough to pay your rent or mortgage. Its all up to you, your niche, the programs you use, and the amount of time and effort you put into your business. Because yes, affiliate marketing is creating your own business!
If you have a blog or website, and some time throughout the week to apply or join affiliate programs, you have the ability to start making a passive income very quickly. A great way to start is by using my favorite affiliate marketing platform of all time!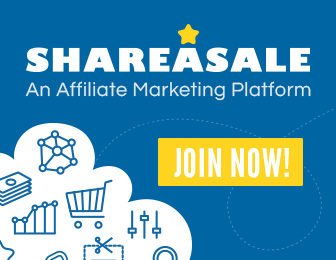 This platform allows you to search for merchants that fit your niche, and apply for their programs. It is completely free to join, and has a quick approval time. The great thing about ShareASale is that hundreds of merchants participate with the platform and they have so many options for almost any niche out there. So be sure to click on the banner above to check it out and start your affiliate marketing journey!
WP Engine
The second major program I want to share with you is WP Engine. (Yes, this is another affiliate link, so if you're interested in this program, check it out here first. You'll be helping the both of us run our businesses!) Most websites on the internet are hosted in some form or other using WordPress. WP Engine is a hosting affiliate program that offers great commission as well. And seeing as so many sites use WordPress, its really a no-brainer to sign up for the WP Engine affiliate program if you run a website. Plus, as an affiliate, you'll have access to great tools and resources of your own, especially if you want to use WordPress to host your personal or business site.
Some other great affiliate marketing programs include:
Are there limits to how much I can make?
Unless you put decide on those limits, no! Like I said before, your profit from affiliate marketing programs will depend on which platforms and programs you use, how you market and share your content, and the percentage of commission you make per lead or sale. Luckily, most of the affiliate marketing programs out there have great commission rates and are free to apply for.
You'll ideally want to begin building traffic to your website organically before you apply, as some programs only accept affiliates who have a certain range of visitors monthly. (This does not apply to all of them, but the restrictions and requirements vary from merchant to merchant.)
You can do this via social media, online and offline outreach, paid social media adverts, etc. But the best way to do so is to have quality content, that is organized, targeted and helpful or engaging to your audience. Plus… a little self-promotion helps too. But I'll talk about that more in the next few articles.
So, maybe you're not quite interested in affiliate marketing…
While affiliate marketing is a great way to earn income online, it isn't for everyone. And that's okay. There are other options too!
Dropshipping Through Shopify
Shopify offers cheap monthly programs to build and host your own online store. The great thing is, you don't have to have physical products to sell. In fact, Shopify works with hundreds or more merchants and retailers that allow you to place their products in your store for free. Then you'll get a nice percentage of the profits when they sell!
Plus, since there are so many retailers to choose from, you can find products for nearly every niche out there. And don't worry about shipping, taxes, or ordering. They take care of all of it for you. All you have to do is sign up with Shopify (which, by the way, they do offer a free trial!), pick your retailers, add the products, and you're done!
Of course, you may want to do a little word of mouth and social media promotion, but the process is easy and quick. And it offers another great way to make a substantial amount of money, for very little cost.
Selling Through Etsy
If you're the crafty type, you probably already know about Etsy. But if you don't, here's the brief summary; open, online marketplace for individuals and small businesses to sell handmade, unique and even vintage items. Etsy does not charge to set up a store, and you choose the pricing, shipping options, and Terms & Conditions for your shop. You can also sell in person or locally (through a 'pick up' option).
There are fees, however they are very minimal; running about $0.20 per listing and nothing is taken out of the money you earn from sales. So don't let that creativity or knack for collecting antiques go to waste. Open an Etsy store and let the money start rolling in!
Brandbassador App
This is an app I discovered earlier this year. It's pretty similar to affiliate marketing, only its via social media. You are paid a small fee for every task you complete on Brandbassador. For example, some brands ask that you like their Facebook, Twitter and/or Instagram page, then leave a like or comment on a post. You get paid for every one of these tasks and there are quite a few merchants available to apply to.
You probably won't be accepted to every single brand (at least not at first), but as you complete more tasks and share individual coupon codes and links, you build reputation within the Brandbassador community. You area also paid a lot more when you get people to make purchases through those links. But even if you don't take that route, you can build up some income in the form of cash or gift cards!
NOTE: Currently, Brandbassador works by invite only. But check out the site or download the app to see how you can start. The approval time is usually very quick.
Poshmark
This is another app that's become really useful to me. Poshmark is an app that allows you to buy and sell your designer brand clothes, shoes, and accessories. You an make a great amount of money, depending on what you've got collecting dust in the back of your closet! But do your research before posting, to make sure you're selling for the right price, and getting your money's worth.
Oh, and Poshmark, like Brandbassador, is completely free to join!
Did you find these options interesting? I hope so. I know there are many, many other retailers, programs, apps and websites out there, but I wanted to share with you a few that I have personal experience with. Because I know they work!
Got any more ideas for SAHM gigs? Get in contact with me or leave a comment, and I'll include them in the next article!